As Paul J. Meyer once said, "Productivity is never an accident. It is always the result of a commitment to excellence, intelligent planning, and focused effort." Measuring the productivity of innovation is critical for the profitability ...


Do pharma executives really understand what Lean can do for their business, and how it can streamline and accelerate the cash-conversion cycle? Let's consider aquaponics as a model for a Lean capitalist venture.


As I've discussed previously on PharmaEvolution, getting children to take medication of any kind can be an arduous task, if not a battle that can escalate into out and out war! Many drugs are available as syrups or suspensions that are ...


The end of any year provides a good opportunity to take a step back and assess the health of an industry from different perspectives. In prior blog posts, I've written about pharma brands' Internet marketing efforts and how they fit ...


Over the past year, the controversy over disclosing clinical trial data has grown more heated. Pharmaceutical industry trade groups have attacked a proposal by the European Medicines Agency, and two drugmakers took court action to ...


Last week, FDA issued a warning letter to the genetic diagnostic company 23andMe, which is raising hackles in Silicon Valley at the same time that it raises interesting questions about ethics and innovation. The agency and the ...
Blogs Archive


Find quality, low cost ingredients & equipment
3-5 December 2013 | Mumbai, India
Register

for your free expo pass today
Latest Archived Broadcast


Write a caption win a Starbucks Gift Card
Click Here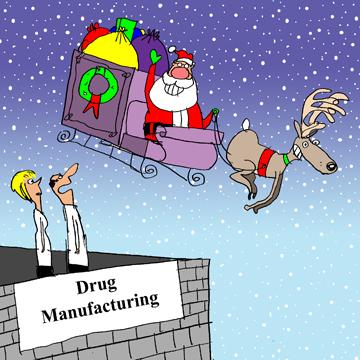 12/6/2013
Comment now

5
Cartoon Archive
Pharma Evolution is looking for engaged readers to moderate the message boards on this site. Engage in high-IQ conversations; earn kudos and perks. Interested? E-mail:
moderators@pharmaevolution.com

Visit the CPhI Online Directory to learn more about these suppliers:










Attend CPhl events to connect with the global pharma industry and identify business opportunities around the world:

















Complete Calendar of Events