Over the past year, the controversy over disclosing clinical trial data has grown more heated. Pharmaceutical industry trade groups have attacked a proposal by the European Medicines Agency, and two drugmakers took court action to ...


As HIV/AIDS treatments have become so much more effective, more immune-compromised HIV patients are developing human papilloma virus (HPV) infections, which have been linked to some head and neck and anal and reproductive system cancers.


In a bid to bolster patient safety and the overall quality of pharmaceutical development, India's Office of Drugs Controller has now mandated that all clinical trial sponsors and investigators must videotape the informed consent agreed ...


We are all acutely aware of the effects of antibiotic overuse and the increased resistance to many many commonly used antibiotics. News articles and personal experiences highlight the issues we are likely to face over the coming decades ...


TGIF: Is a TV drama about pharma in the works? Hollywood is buzzing about Empowered, a proposed television show that could bring the drama of pharma to the world's small screens.


Recent news from GlaxoSmithKline (GSK) suggests that Phase III efficacy trials of the company's vaccine RTS,S against malaria have been shown to be increasingly positive. The results were presented at the Sixth Multilateral Initiative ...
Blogs Archive



Find quality, low cost ingredients & equipment
3-5 December 2013 | Mumbai, India
Register

for your free expo pass today
Latest Archived Broadcast


Write a caption win a Starbucks Gift Card
Click Here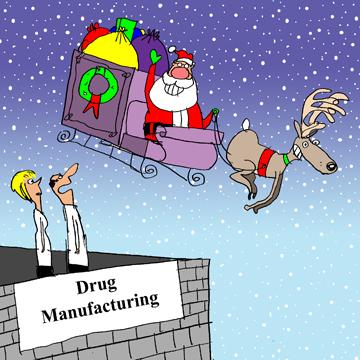 12/6/2013
Comment now

5
Cartoon Archive
Pharma Evolution is looking for engaged readers to moderate the message boards on this site. Engage in high-IQ conversations; earn kudos and perks. Interested? E-mail:
moderators@pharmaevolution.com

Visit the CPhI Online Directory to learn more about these suppliers:










Attend CPhl events to connect with the global pharma industry and identify business opportunities around the world:

















Complete Calendar of Events