I recently picked up Sanofi-Aventis's new game app, Monster Manor, which is designed to encourage children with Type I diabetes to manage their condition better via the use of gaming technology. The app, which is available for download ...


If you've been to your doctor in the past couple of years, which will get a silent head-nodding "yes" from nine out of 10 of the readers of this article, you've probably noticed that much more of your visit is being captured via ...


What do Maslow's hierarchy of needs and pharma have in common? On the surface, it might seem they have nothing in common. However, there are many points of connection in today's global economic landscape, where the world has not only ...


Drug repositioning, also known as drug repurposing, drug reprofiling, or therapeutic switching, is the process of reinvestigating existing molecules for new indications. Candidates for repositioning usually fall into one of the ...


A large number of recent articles and blogs have centered on problems with products, both their purity and effectiveness. Process Analytical Technology (PAT) was initiated to help pharmaceutical companies make a quality product, over ...


The human race has one significant weakness. We all want to know what the future holds for us, and we want to know now -- hence the popularity of fortune-telling and such "fields" as astrology. In our desire to predict tomorrow, ...
Blogs Archive


Find quality, low cost ingredients & equipment
3-5 December 2013 | Mumbai, India
Register

for your free expo pass today
Latest Archived Broadcast


Ed Silverman, renowned pharmaceutical industry journalist, discusses some of the high and low points of the past year.
Comment now

0
Write a caption win a Starbucks Gift Card
Click Here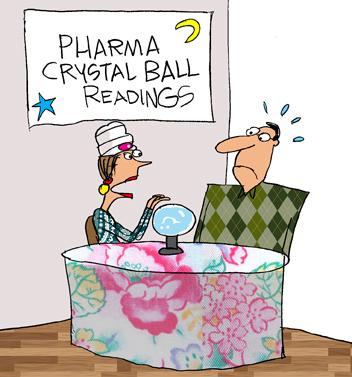 1/28/2014
Comment now

2
Cartoon Archive
Pharma Evolution is looking for engaged readers to moderate the message boards on this site. Engage in high-IQ conversations; earn kudos and perks. Interested? E-mail:
moderators@pharmaevolution.com

Visit the CPhI Online Directory to learn more about these suppliers:










Attend CPhl events to connect with the global pharma industry and identify business opportunities around the world:







Complete Calendar of Events