How Well Do You Know PAT? Take Our Quiz & Win a Prize

Emil W. Ciurczak, Principal, DoraMaxx Consulting

Monday, February 25, 2013 00:04 EST

4 comments

Remember the game show You Don't Know Jack? In the same spirit, we will post a quick multiple choice quiz every week, prepared by an expert on the topic, to see how well you know a timely, important, or widely misunderstood subject.

Be among the first five to post the right answers on the message board below, and, depending on where you're based, you could win a custom PharmaEvolution mug or a $10 Starbucks gift card. The following week, we'll reveal the correct answers via the message board.

This week's quiz will tackle one of pharma's most discussed but least understood three-letter acronyms: PAT (and, no, we won't expand it for you).

Thanks for the NIR spectroscopist and pharma PAT expert Emil Ciurczak for sending us the questions. And remember: No Googling the answers or other forms of cheating.

So, do you know PAT?
In what year was the PAT Guidance released by the US FDA?

a. 2000
b. 2001
c. 2002
d. 2003



Who was the driving force in getting the Guidance written and approved?

a. Ajaz Hussain
b. Janet Woodcock
c. Moheb Nasr
d. Saddam Hussein



The basic tenets of PAT are:

a. Measure, archive, report
b. Measure, understand, control
c. Measure, compare to cGMPs, report
d. Measure, pass/fail, package/destroy



True or False: Design Space is first mentioned in the PAT Guidance.

Technologies mentioned in the PAT Guidance are:

a. Near-Infrared only
b. Near-Infrared and Raman
c. NIR, Raman, and Infrared
d. No techniques were specified



If a QbD program is initiated, PAT (for that product) should be continued:

a. Permanently
b. 1 year
c. 6 months
d. 3 months



The differences between current practices of GMP and the PAT program are:

a. PAT considers every lot a validation lot
b. Processes are measured in real-time
c. There is no set limit to the number of samples taken
d. The tests in PAT are non-destructive
e. All of the above



The biggest difficulty that QA departments had with the PAT Guidance is:

a. It specifies "best scientific judgment" instead of set numbers of tests
b. They were not included in the fact-finding portion of the Guidance writing
c. There is no mention of cGMPs in the Guidance
d. There is no number of validation lots required



The acronym PAT stands for:

a. Process Analysis Technologies
b. Process Analytical Technology
c. Process Analysis Technology
d. Production Analytical Technology



Answer True or False for each of the following:

a. PAT is required by the FDA
b. QbD is required by the FDA
c. QbR (Question based Review) is required by the FDA



Under PAT, A process is generally considered well understood when which of the following conditions are met? (Pick all that apply.)

a. Critical sources of variability are identified and explained
b. All possible degradation products are isolated and characterized
c. Variability is managed by the process
d. The COGS (cost of goods sold) is optimized
e. Product quality attributes can be accurately and reliably predicted over the design space established
f. All units produced are within USP release standards



Design space is established for which parameters? (Pick all that apply.)

a. Raw materials used
b. API synthesis routes
c. Process parameters
d. Manufacturing
e. Environmental factors
f. Documentation for data storage

4 comments



Find quality, low cost ingredients & equipment
3-5 December 2013 | Mumbai, India
Register

for your free expo pass today
Write a caption win a Starbucks Gift Card
Click Here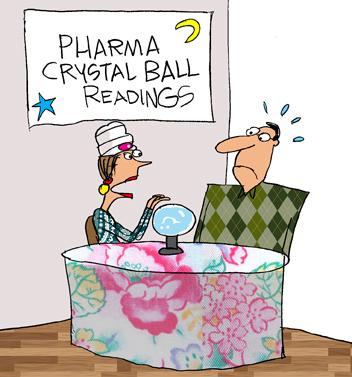 1/28/2014
Comment now

2
Cartoon Archive
Pharma Evolution is looking for engaged readers to moderate the message boards on this site. Engage in high-IQ conversations; earn kudos and perks. Interested? E-mail:
moderators@pharmaevolution.com

Visit the CPhI Online Directory to learn more about these suppliers:










Attend CPhl events to connect with the global pharma industry and identify business opportunities around the world:









Complete Calendar of Events