How Would You Solve the Sterile Injectable Generics Crisis?

Agnes Shanley, Editor-in-Chief

Wednesday, February 27, 2013 01:00 EST

12 comments

Over the past few years, some of the industry's worst quality control failures and noncompliance cases have revolved around sterile injectable generics.

In the US, the FDA cited or closed down manufacturing at companies that include Teva (which was both cited and closed down), Ben Venue, and Sandoz. This led to shortages of some of the most widely used drugs in the US, such as propofol, which was in extremely short supply a few years ago.

In October, Janet Woodcock, director of the FDA's Center for Drug Evaluation and Research (CDER), and Marta Wosinska, senior economic advisor at FDA, published an article in Clinical Pharmacology and Therapeutics that offered detailed analysis of the reasons for the supply crisis with sterile injectable generic drugs.

Manufacturing sterile injectables is complex, they conclude. In addition, the market fails to reward manufacturers for superior product quality, while consumers cannot recognize it.

Options, as reported recently by the Regulatory Affairs Professionals Society's Regulatory Focus and Fierce PharmaManufacturing.com, include having FDA grade plants with letter grades based on quality performance. HMO scorecards could be another option, they suggest.

Another suggestion by Gawayne Mahboubian-Jones of Philip Morris, in an interview with PharmaManufacturing.com a few years back, was to have quality indicators on drug packages, analogous to what food manufacturers must do with food ingredients and nutritional value. This way, the educated consumer would decide which drug to choose.

Are any of these options feasible? What would you suggest?

If you haven't read the article, click here.

Or listen to an audio interview of the authors with Clinical Pharmacology and Therapeutics' editor:

What would you suggest be done to solve this problem? Please write in with your thoughts.

12 comments



Find quality, low cost ingredients & equipment
3-5 December 2013 | Mumbai, India
Register

for your free expo pass today
Write a caption win a Starbucks Gift Card
Click Here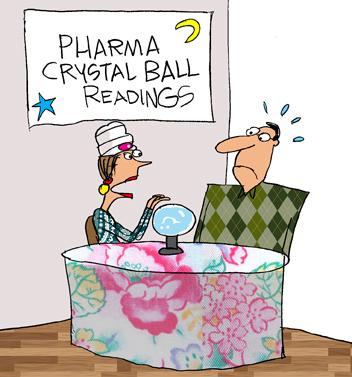 1/28/2014
Comment now

2
Cartoon Archive
Pharma Evolution is looking for engaged readers to moderate the message boards on this site. Engage in high-IQ conversations; earn kudos and perks. Interested? E-mail:
moderators@pharmaevolution.com

Visit the CPhI Online Directory to learn more about these suppliers:










Attend CPhl events to connect with the global pharma industry and identify business opportunities around the world:









Complete Calendar of Events