And the Winner Is… Nominate Your Peers for Excellence in QbD

Agnes Shanley, Editor-in-Chief

Tuesday, February 26, 2013 01:05 EST

3 comments

The Oscars may have come and gone, but the American Institute of Chemical Engineers (AIChE) is readying the red carpet for its annual Pharmaceutical QbD Awards.

QbD (Quality by Design), coined by J.M. Juran and brought to pharma by the FDA, encapsulates best development principles that allow for consistently high product quality, despite variability in process variables and raw materials.

These awards are presented annually to professionals whose work is furthering the goals of the QbD initiative within the worldwide pharmaceutical industry, and to recognize excellence in QbD process development and scale-up. Criteria for selection include contributions to the state of the art in the public domain -- for example, thought leadership presentations, articles, publications, and the sharing of best-practices.

As AIChE awards chair Robert Yule, team leader at GlaxoSmithKline (Research Triangle Park, N.C.) explains, nominees may be working in industry, academia, regulatory, or other relevant working environment, and be from any nation, working at any location. There are no age or experience limits. Preference is given to work that features chemical engineering.

In 2013, AIChE's newest forum, Pharmaceutical Discovery, Development, and Manufacturing Forum (PD2M) will carry on the tradition by coordinating the nomination and selection process for the QbD awards. There are three awards including:
Outstanding Contribution to QbD for Drug Substance, sponsored by Scale-up Systems
Outstanding Contribution to QbD for Drug Product, sponsored by Pfizer
Excellence in Integrated QbD Practice, sponsored by Merck
Each award includes $1,500 and a commemorative plaque, which will be presented at a special awards ceremony dinner during AIChE's annual meeting, November 3-6, in San Francisco. More information about the annual meeting can be accessed here.
Past award winners were respected individuals well known for their work to advance QbD:
2010 -- Kevin Seibert (Eli Lilly) and Sal Garcia-Munoz (Pfizer)
2011 -- Jose Tabora (BMS), Steve Hammond (Pfizer), and Theodora Kourti (GSK)
2012 -- John Lepore (Merck), Christine Moore (FDA), and Steve Jeffrey (Eli Lilly)
The nomination period for the 2013 awards will close June 15, 2013. After the nomination period has closed, the PD2M QbD Awards Chair compiles the nominations and coordinates the award voting via a blind judging panel consisting of senior members of the AIChE PD2M Forum. The blind judging system was established so that award sponsors cannot influence to whom the award is given. Questions regarding the QbD Awards should be directed to Bob Yule of GSK at Robert.E.Yule@GSK.com.
Look for a quiz on QbD, and blog posts on the topic, here next week.
Additional Resources:

3 comments



Find quality, low cost ingredients & equipment
3-5 December 2013 | Mumbai, India
Register

for your free expo pass today
Write a caption win a Starbucks Gift Card
Click Here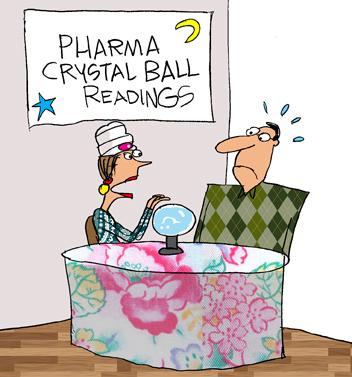 1/28/2014
Comment now

2
Cartoon Archive
Pharma Evolution is looking for engaged readers to moderate the message boards on this site. Engage in high-IQ conversations; earn kudos and perks. Interested? E-mail:
moderators@pharmaevolution.com

Visit the CPhI Online Directory to learn more about these suppliers:










Attend CPhl events to connect with the global pharma industry and identify business opportunities around the world:







Complete Calendar of Events