Pharma Evolution Case Files 1

Agnes Shanley, Editor-in-Chief

Monday, February 25, 2013 00:03 EST

4 comments

Who is advancing a smarter approach to pharma, in all its facets, and who isn't? Every week we'll run through top news, and divide the proactive and those who have (knowingly or unwittingly) spurred positive change from the reactive, inactive, or soon-to-be-extinct.

Sometimes, good news gets buried in general media coverage. Please right this wrong by sending us updates on positive efforts and results you are seeing within your company and elsewhere. But don't be afraid to call out the dodos and dinosaurs among you.

Progressives

The US Department of Justice
Drug misbranding cases have dominated the DOJ's pharmaceutical industry activities, but, according to the Regulatory Affairs Professionals Society's Journal, Regulatory Focus, DOJ plans to make current good manufacturing practices (cGMPs) one of its top areas for scrutiny this year. Will this new focus take manufacturing out of its stepchild role, and drive the use of more modern technology and quality management methods?

China's State Food and Drug Administration
SFDA is already overhauling its cGMP regulations. But now it is working over its supply chain, too. Cynics might recall that this was the nation that brought melamine and oversulfated chondroitin sulfate into daily breakfast table conversation, and the government body that executed its former commissioner back in 2007, but SFDA appears to be serious in its efforts to modernize quality control and supply chain management. As FiercePharmaManufacturing reports, SFDA's new good supply distribution practices are mandating use of track and trace technologies that have been widely discussed for the past 10 years, and remain "under discussion" in the US without clear mandates set by the FDA.

Shanta Russell
After reportedly taking contraceptives as directed on the package label for 12 years, the UK Daily Mail and several other newspapers recently reported, this single mother from Kansas City has sued Qualitest Pharmaceuticals and parent company Endo for birth-control labeling errors that led to the drug's recall, and also, presumably, to her pregnant condition. Labeling errors can lead to adverse patient reactions, but they also compromise and silently invalidate clinical trials. Could this suit and others like it involving contraceptives (reportedly planned in California, Texas, and other states) and other suppliers, eventually drive the use of PAT and smarter methods in clinical and full-scale manufacturing? Stay tuned to more on this topic from blogger and NIR expert Emil Ciurczak.

John LaMattina
Pfizer's former head of R&D said recently in an interview in the Connecticut-based publication, The Day, that he had an epiphany when a guest on Dr. Mehmet Oz's TV show two years ago. As he relates, shouting audience members showed him vividly how poor the public's opinion of the industry is. He is now bringing that sensibility, and some balance, to showing the more positive face of pharma and muses on the topic in his new book, Devalued and Distracted.

Dead Ends

Ranbaxy's US legal team
When you have released, and recalled, pharmaceuticals that may contain small pieces of glass, wouldn't it be best to take an apologetic stance to any consumers who might have purchased these products? Blaming the victims (alleged or not) of cGMP violations seems the wrong tactic. Yet that is what Ranbaxy's U.S. legal defense team is doing now, Pharmalot and FiercePharma reported recently. Given the cGMP violations already on record, and hundreds of millions of dollars in costs stemming from those violations, mightn't another approach have been better? Just ask John LaMattina.

Teva
The booming generic drug market is based on the idea that the drugs can be marketed only after the name-brand patents have expired. But some generic drug manufacturers have gambled on being able to jump the gun. This strategy may cost Teva $2 billion, according to PharmaTimes.

Pfizer
Is it good practice to capitalize on a brand's reputation for "right first time" quality, yet outsource manufacturing of offshoot generic product lines to suppliers with inconsistent quality and compliance records? Pharmalot reports that Pfizer has allied with Indian active pharmaceutical ingredient (API) suppliers such as Aurobindo and Claris Lifesciences to manufacture generics. However, both Aurobindo and Claris have recently been cited for cGMP problems. Even though Pfizer's drugs were not affected in either case, could there be a need for greater scrutiny of supply chain partners? One might expect a company like Pfizer to know better.

4 comments



Find quality, low cost ingredients & equipment
3-5 December 2013 | Mumbai, India
Register

for your free expo pass today
Write a caption win a Starbucks Gift Card
Click Here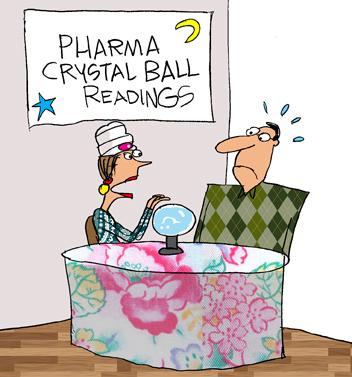 1/28/2014
Comment now

2
Cartoon Archive
Pharma Evolution is looking for engaged readers to moderate the message boards on this site. Engage in high-IQ conversations; earn kudos and perks. Interested? E-mail:
moderators@pharmaevolution.com

Visit the CPhI Online Directory to learn more about these suppliers:










Attend CPhl events to connect with the global pharma industry and identify business opportunities around the world:







Complete Calendar of Events